---

MicroCombo1W during testing.

My MicroCombos have a plain sound, and are able to give crunch at low level without hurting your ears, with a roundness that has nothing to regret in comparison with tubes.
They are well suited for private rehearsals at home, and even for small parties!
They were originally designed for the guitar, but I quickly grasped the interest of working just as much for the harmono, taking advantage of the grain of the old transistors …
---
MicroCombos for guitar and harp

MicroCombo1W. The first exemplaire of 2018, in wild cherrywood. (7.5 x 15 x 2.3 inches)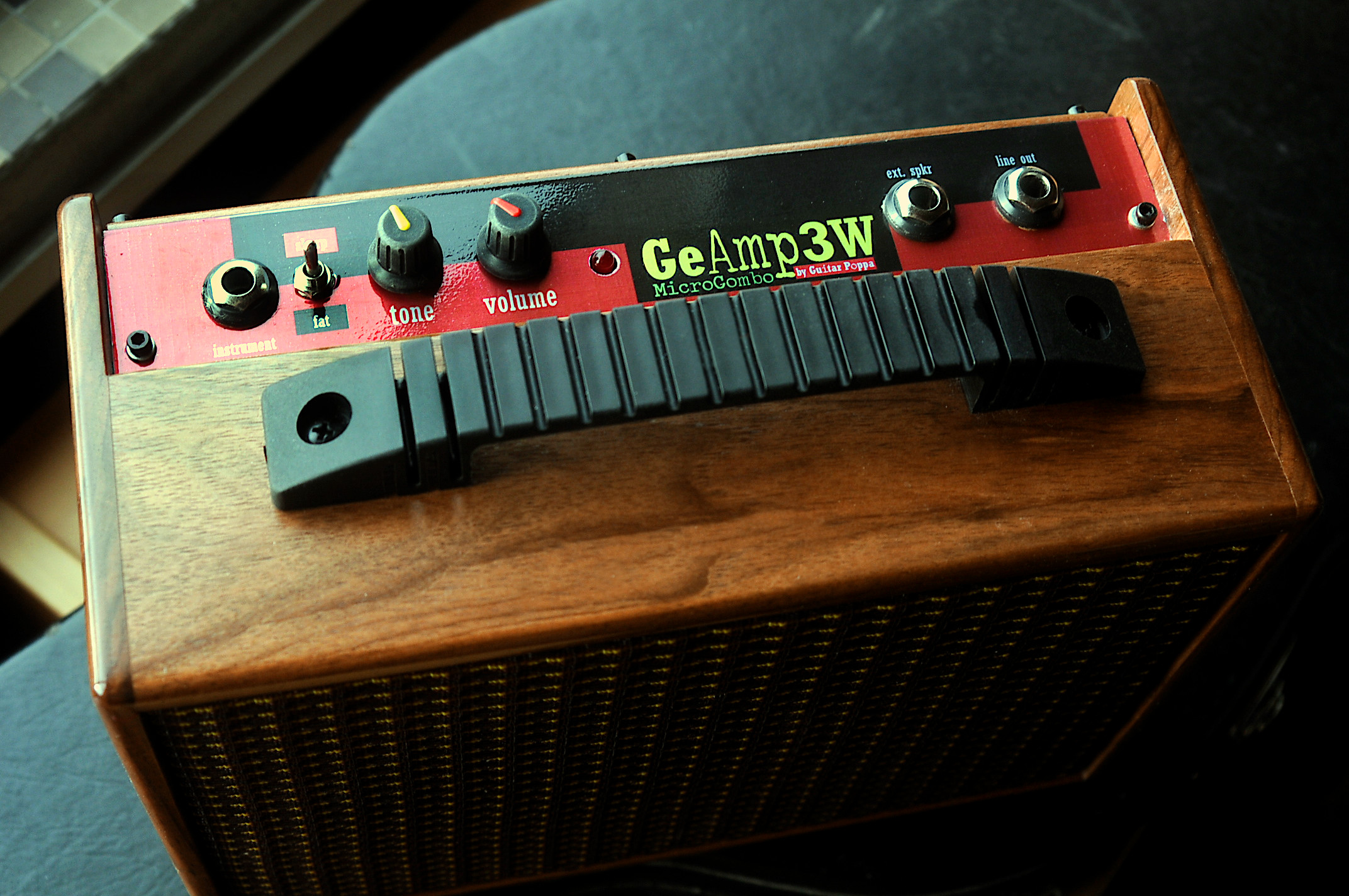 MicroCombo3W. The first exemplaire of 2020, in french walnut. (9.8 x6,7 x 4.7 inches)

Updated vintage circuits
My MicroCombos are inspired by circuitry from the 70s, which sounded very round.
All the transistors are vintage, as are some of the preamp capacitors.
The power amplifier uses 100% germanium transistors.
My approach was to enhance their grain and maximize their reliability.
They can both work in clear sound and play saturated and "twisted" without danger.
Play at low power but with true sound
Old-fashioned amplification will delight those who hate the poor texturation of low-end amps made of integrated circuits.
Even neighbors will appreciate your new sound !
---
Printed circuit of the preamp and the power amp.
---

Custom amp heads
Combine a preamp and a power amp
The approch is to choose a preamplifier from the GuitarPoppa range, and to associate it with a 10 or 25W germanium power amplifier.
The enclosure can be sized and formalized in consultation with the customer.
Routing and connectivity are also customizable.
Vintage electronics, germanium / silicon hybrid
Technologies of the 60s and 70s are used according to what they can provide best :
Germanium brings texture and compression that will make the musicality of the system.
Silicon guarantees robustness to the whole system, and low noise in the critical stages.
---

SweetGerm+25W in its custom enclosure (12.6 x 3.5 x 9.8 inches). Custom order in 2019.
---

---
Currently available
MicroCombos
Compact amplifiers, with a solid wood enclosure and a brand speaker.
Neat old fashioned electronics.
MicroCombo1W, a little but true amp made to play guitar or harp at home …
MicroCombo1W5, with the same grainy sound in a bigger box. Available in spring 2020…
MicroCombo3W, A little big brother who will dare to get out and play in bars.

Custom amp heads
Combinations of a preamp and a poweramp, developed in consultation between the client and Guitarpoppa… These are easily available :
SweetGerm+10W amp head.
SweetGerm+25W amp head.
CurvyMama+10W amp head
CurvyMama+25W amp head
Contact us for more informations and custom order.

---

---
Links
On this website
Skip to suite : "Mods and Customizations" 
Consult the General Conditions of Sale
Elsewhere
---
Last édition : mai 2020