LikeYourFace is a classic 2 germanium transistors fuzzbox.
Even more musical… Wider and progressive fuzz control .
And more reliable than the antique models !
A "boutique" stompbox at a reasonable price !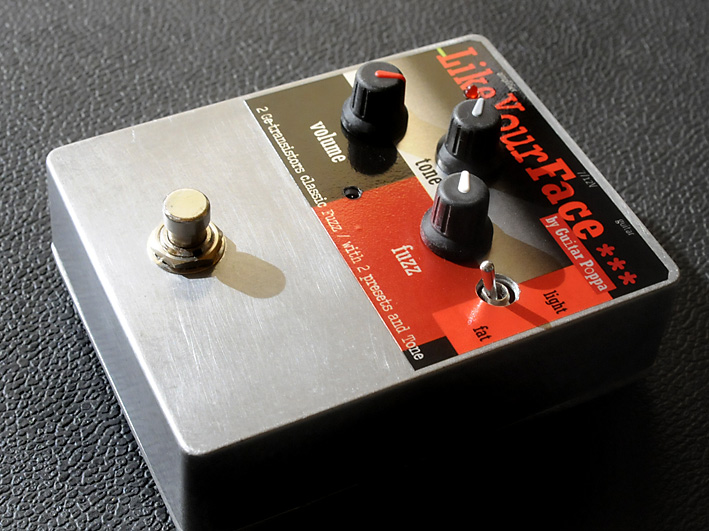 LikeYourFace, *** version.
---
The Fuzz Face® marked the history of electric guitar by its rich and fluid compression. Then, the succes of diode distorsions made it less fashionable. In the 90s, the vintage fashion made it a cult object despite its technical defects. Reissues and cloners multiplied.
The problem is you are never sure to get a satisfying fuzz when you blindly clone the original schematic. The reason is the original circuit is not orthodox, and very simplified. Ordinary defauts of the transistors can prevent it from correct working. I spent months experiencing the role of each component,  looking for ways of optimization.
Now I can proudly say that each LikeYourFace works perfectly, and gives that mellow fuzzy sound which gave soul to the old two transistors fuzzboxes.
---
General features
• Based on the classic 2 transistor circuit from 1967…
• Devices formerly omitted by stinginess make it now reliable.
• High-impedance input let place it anywhere in the chain.
• The germanium transistors are sorted and matched.
• The bias is adjustable from outside.
• Option on *** model : Big Muff type Tone Control.


---
LikeYourFace is compatible with all standard DC power supplies, 7 to 12V, negative ground (center of the 2.1mm coaxial plug).
As with every germanium device, one should let it on for 5 to 10 minutes before playing and getting its best : the necessary delay to let inner currents and temperature diffuse inside the germanium cristal !
---

---
2 versions ×2 options

basic                                                                                    ***
2 versions…
LikeYourFace basic  :
Tradition-bound, with the two classic settings : Fuzz and Volume.
Now reliable, temperature-stable, and with a more progressive variation of gain.
LikeYourFace ***  :
Widens the sonic potential of classic fuzzboxes.
Features two presets (Fat, Light), and a one knob Tone Control
2 tone options in each version…
Classic smooth :
Audio Germanium transistors, AC128 type. Rather creamy texture. Dynamic and fluid fuzz .
Classic bright :
Audio Germanium transistors, AC125 type. More sharp and bright, but never strident.

---

Examples of transistors used in the Classic smooth option : AC128, GC301C.

plus a special offer (still available)

A special version to bring some pleasure
and let you forget about these damn years :
LikeYourFace , OC75 version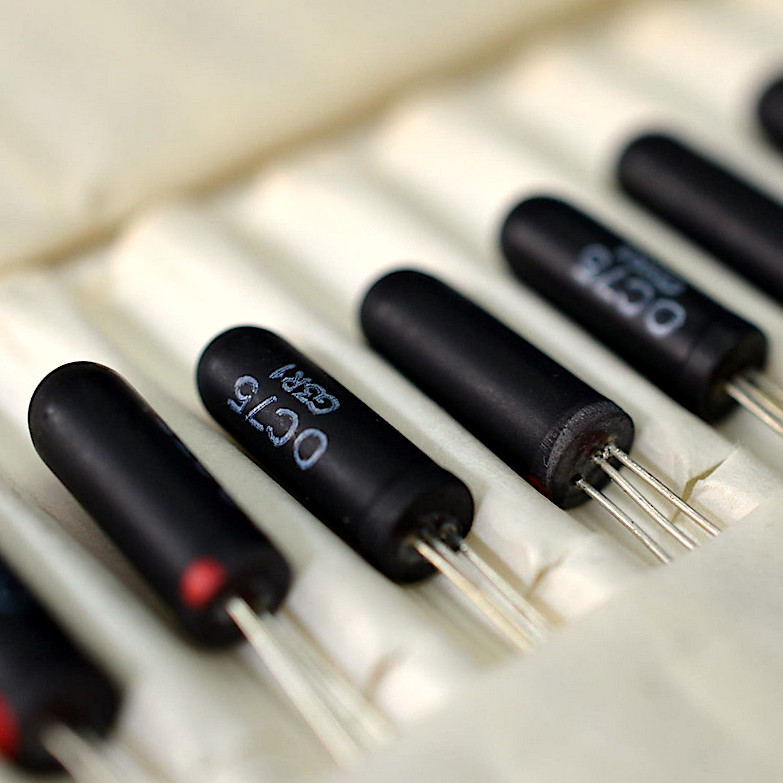 It is a two-knob version,
supa vintage because equipped with OC75 transistors.
These transistors developed by Philips and Mullard in the 60s were used on the Tone Benders 1, 1.5 and 2, Marshall's Supa Fuzz, and other antique classics.
Their grain is vigorous, and they bring a remarkable medium color: This grain × color combination is one of the most singing of the vintage years.

---
To order
1. Choose the version…
2. Specify an option when proposed.
3. Specify the shipping zone.
4. Click ‹add to cart›
5. Click 'Cart' on main menu, or keep on visiting.

LikeYourFace
basic version
109 €
Both traditional and optimized :
• 2 classic controls : Fuzz ; Volume.
• Like its ancestors, it has neither presets, nor tone control.
LikeYourFace, basic
Shipping costs (Colissimo with signature, by the french Post)
France: 8 € — CE + Switzerland: 14 € — Other countries: 24 €

LikeYourFace


*** version

139 €
More tone settings :
• Classic controls : Fuzz ; Volume.
• Two presets selector : Light / Fat .
• One Knob Tone Control.
LikeYourFace, *** 
Shipping costs (Colissimo with signature, by the french Post)
France: 8 € — CE + Switzerland: 14 € — Other countries: 24 €

L

ikeYourFace




OC75 version



139 €
Special version to forget 2020 !
• Vintage OC75 transistors by Philips,
They were used in some Tone Bender 1.5,
the Marshall SupaFuzz and others…
---
LikeYourFace OC75
Shipping costs (Colissimo with signature, by the french Post)
France: 8 € — CE + Switzerland: 14 € — Other countries: 24 €
---

---
To know more…
Audio links :
Technical links :
Technical sheet (downloadable pdf)
Germanium transistors : Sonic properties (article)
Germanium transistors : Black Glas models (article)
Germanium transistors : TO1 models (article)
Biasing a fuzzbox (article)