MicroCombo 3W is a portable and powerful micro-amp for guitar or harmonica.
The all Germanium power amp, the big brand speaker  give to it efficiency and musicality.
It will let you play at home or in small places, connected to an external cabinet or to the sound system of the bar.
Options are available when ordering.
---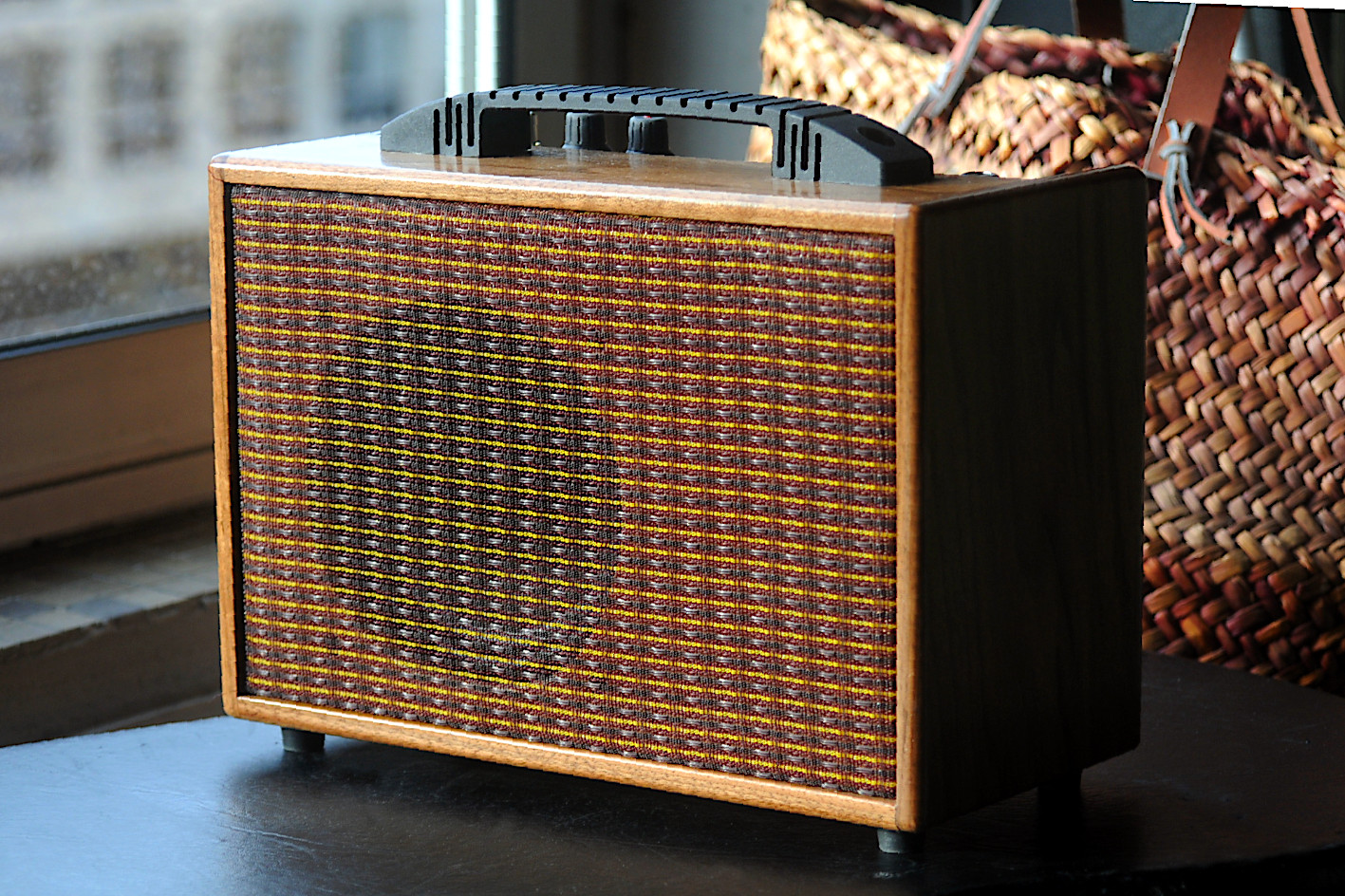 MicroCombo3W in its walnut enclosure.

---
General features

• Dimensions: front 9.8 x 6.7 inches, depth 4.7 inches.
• Solid european walnut enclosure.
• 3W RMS power amp, 100% germanium, 60/70s technology.
• 5″ speaker (91dB) at one's choice.
• Preamp with combined control of medium and treble.
• Internal or external power supply, at one's choice.
• Full connectivity.


Equipment


---
Controls and connectivity
From left to right :
• Input Jack. High impedance ; sensitivity to be specified as desired ***
• Presets switch.  Normal / Fat / Sharp.
• Tone control. Neutral at 12.00 ; warm to the left ; fenderish to the right.
• Volume control. Full clean volume at about 13.00, overdrived beyond.
• Power on LED.
• 6.35mm jack for external speaker (mutes the internal speaker).
• 6.35mm jack for line output. (transmits the signal received by the speaker).
• 3.5mm jack for headphone output (not on the photo but possible on request) ***
Equipment marked *** will be specified when ordering.

Speaker
MicroCombo 3W is equipped with a 5″ speaker, 91dB 1W / 1m ***
I offer at your  choice and at equal price (link to technical sheet) :
• Celestion TF0510. For those who want a british sound, well-defined in mid/treble.
• Jensen CH5-30. For those who want an American sound carved where it has to be.
• Contact us to choose a speaker adapted to acoustic guitars…

Power supply
Two types of power supply available (at equal price) ***  :
Built-in internal 230V power supply
• Classic transformer and stabilized power supply included in the box.
• European socket with switch on the rear panel. Power cable supplied.
External power supply (16V to 24V)
• Laptop-type model, supplied with selectable output voltage.
• Coaxial socket on the rear panel. (2.5mm, center positive).
• Lets modulate the output power between 2 and 4W according to the chosen voltage.

To order MicroCombo3W

1. Specify the options.
2. Specify the shipping zone.
3. Click <Add to cart>.
4. Click 'Cart' on main menu.

MicroCombo3W
Price : 269€
---
Choose your options by clicking on the buttons below:
MicroCombo GeAmp3W

Choose well the input level options…
Guitar pickups (50mV)
Configuration suitable for almost everything. Ceramic bullet microphones (like Green Bullet) or certain high impedance dynamics may however oversaturate the preamp.
Antique Bullet mikes like Green Bullet (250mV or more)
These ceramic pickups are often aggressive because of their output level and their strong mediums. With this option, they will be well put up and their frequzency response a little rebalanced.
High impedance dynamic mikes (200mV or more)
It may be powerful and warm old microphones: Shure Control Magnetic, Shure 515, 588 …
Or contemporary "new old school" microphones: Bottle O Blues, Silverfish…
Low impedance dynamic mikes (20mV)
Option to accommodate low level microphones with enough gain.
Guitars with single pickups can also be more easily pushed to saturation.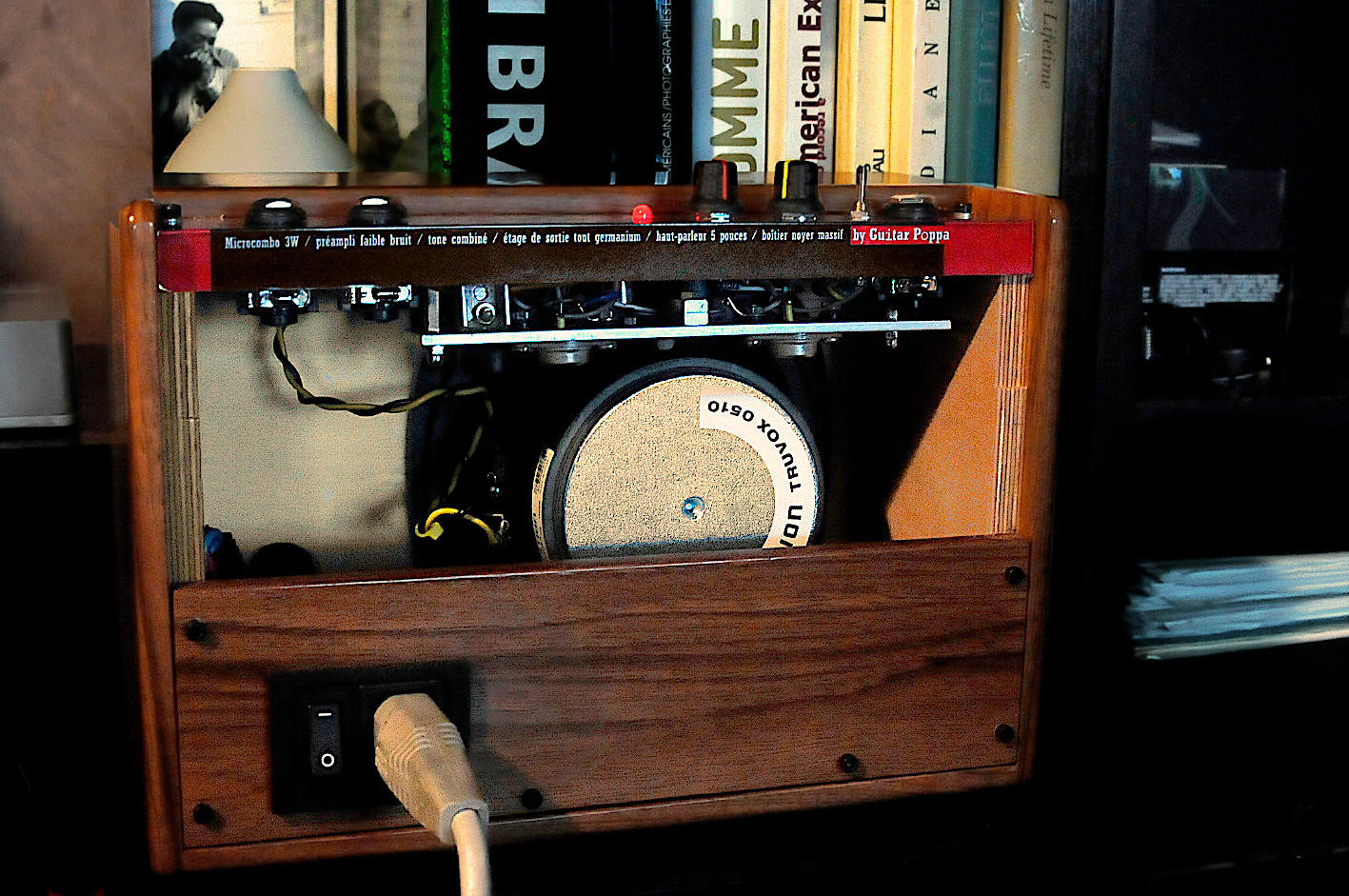 Microcombo 3W, rear view top panel removed. Equipped here with a Celestion TF0510.
You can see the main socket and cable.

The professionnal PCB and the power transistors.