---
---

A MicroCombo prototype on the workbench …

MicroCombos are small 1W and 3W amplifiers. (I mean real watts on 8 ohms…)
They are made in old fashioned way, which gives them a special quality both from a technological point of view and according to their design :
Discrete components, 100% germanium transistors, AB class amplification.
Branded speakers, contemporary or NOS.
Solid wood enclosure (cherrywood or european walnut).
Their clear sound is mild, and they crunch at low level without sounding harsh, with a roundness that has nothing to regret from tubes.
They are well suited for home rehearsals, and even for small parties !
They were originally designed for the guitar, but I quickly grasped the interest of working just as much for the harmonica, taking advantage of the grit of old transistors …
---

MicroCombo1W and MicroCombo3W

Updated vintage electronics…
MicroCombo1W applies a circuit from the 60s and 70s, known for its robustness and its mild sound. By its small size and its internal battery or external power supply, it is like a complice that you can bring everywhere with you – and your instrument.
I developed it without concession, matching objectives of mobility and musicality.
MicroCombo3W is a more powerful development, also from the 70s. Tripling the power lets a total comfort at home, and even to consider playing in small gig places, especially because it has all what it takes to be connected on PA. They come with a branded 13cm speaker, to be choosed according to your preferred styles.
All the transistors are vintage, as well as some passive components of the preamp.
The power amplifier includes 100% germanium transistors. This technology produces very musical compression and saturation. Consequently, my approach has been to highlight their grit and maximize their reliability.
They can work in clean sound as well as play saturated and "twisted" without danger.
Little power, but real sound
Old-fashioned amplification will delight those who hate the poor texturation of low-end amps made of integrated circuits.
Even neighbors will appreciate your new sound !
Links to product pages


MicroCombo1W.
A 2018 model, in cherrywood. (19x15x10cm)
The amplification card with its germanium transistors, Western and Russian.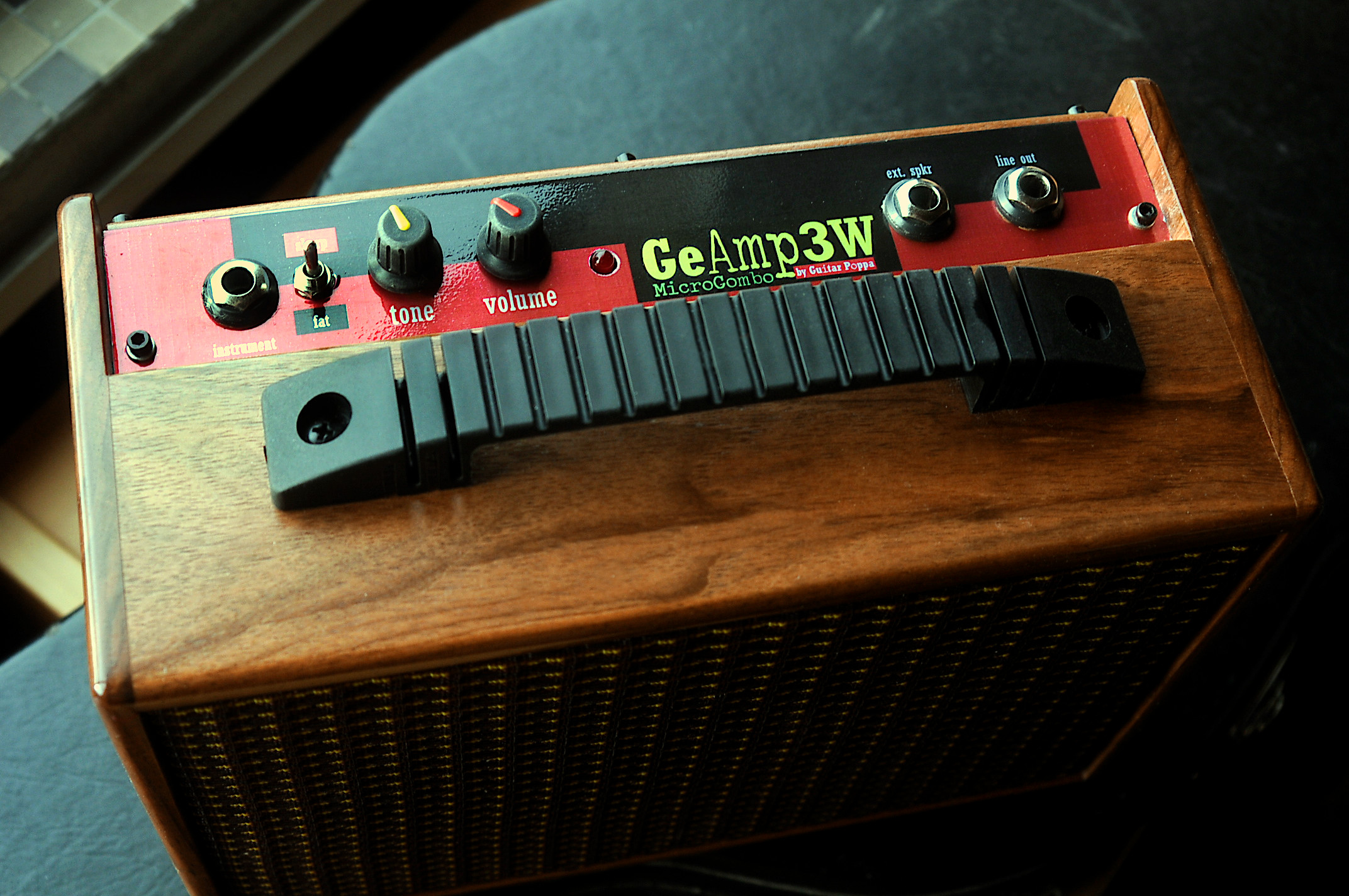 MicroCombo3W.
The first exemplaire of 2020, in french walnut. (25x17x12cm)
The amplification card and the power transistors.


---
Links
On this website
Consult the General Conditions of Sale
Elsewhere
---
Last édition : July 2021