CurvyMama is a special preamp that will give flesh, curves and grit to harps and guitars…
It can also give nice thighs to skinny guitars !
In that aim, it features an original tone control and a germanium preamp.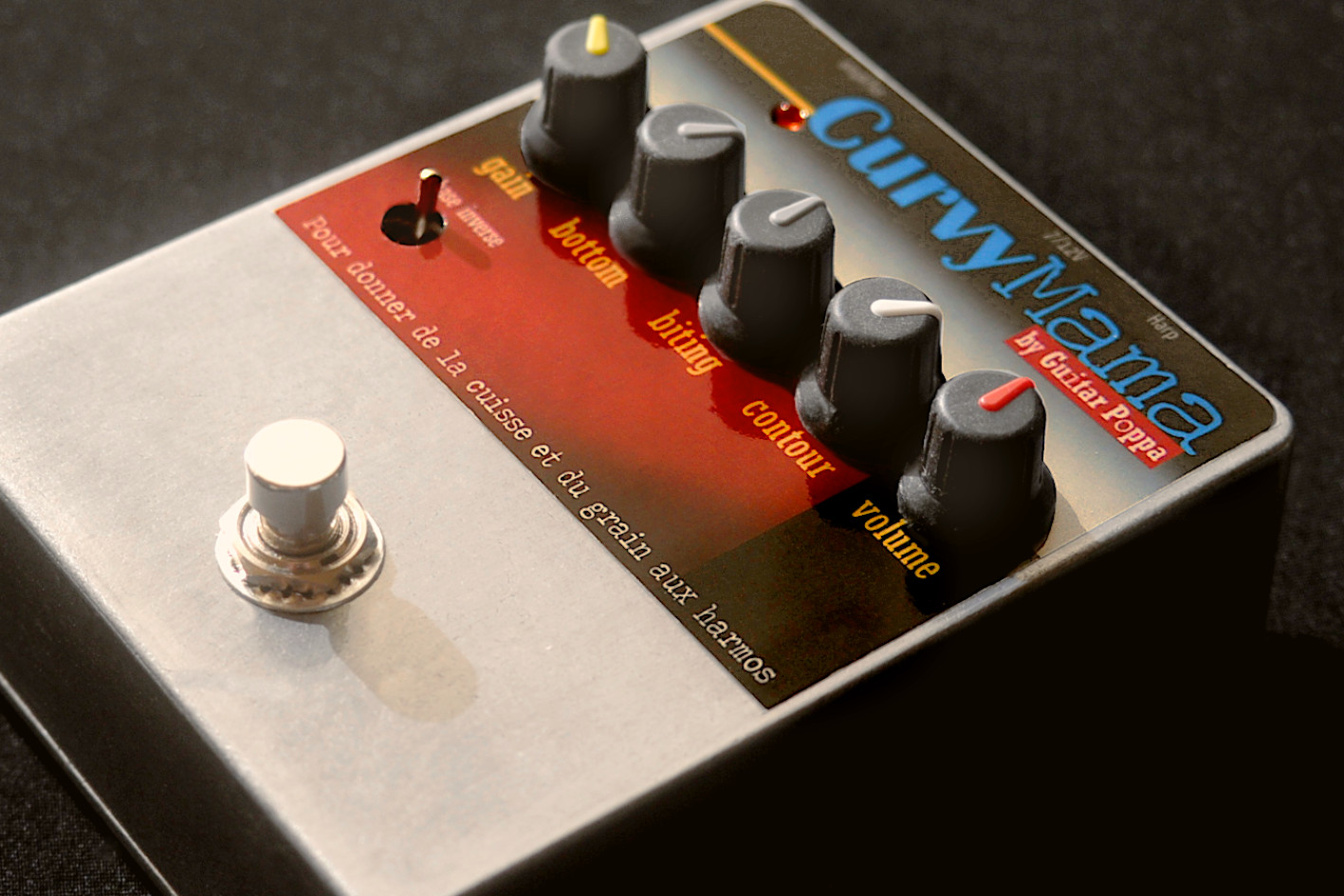 CurvyMama, 2022 model.

---
Main features

• Gain control to get clean sound or overdrive with any mike.
• Original tone circuit, improving the nuances
in the low medium and at the medium-treble junction.
•  Optional medium notch filter for ceramic mikes
•  Germanium NOS transistors in the output stage
to bring a mild and organic overdrive.
•  Phase invert switch to minimize feedback issues.
•  High level low impedance output.
---

 To order

---

1. Choose your filter option
2. Specify the shipping zone.
3. Click <Add to cart>.
4. Click 'Cart' on main menu, or keep on visiting.
---
CurvyMama




Unchanged price



169 €
Preamp for harp, as described on this page.
• 5 basic controls :
drive, bottom, biting, contour, volume.
• Phase invert switch.
• MidNotch switch (free option).
---
The [S]cream
Shipping costs (by the french Post) :
France: 8 € — CE + Switzerland: 14 € — Other countries: 24 €
---

Technical details

Universal input
• 500kΩ high impedance, friendly connectible on every source.
• Admissible level: 10mV to 500mV, adjustable by the Gain / Drive potentiometer.
Piezo or ceramic bullet pickups
(antiques: JT30, Green Bullet… neo-antiques: Superlux D112C)
• Nominal output level: 200 to 500mV, high impedance.
• Standard setting: gain between the minimum and 9h00;
• MidNotch filter on.
• NB: With the D112, the gain can be set higher because its output level is moderate.
Old or neo-vintage dynamic microphones
(Shure Control Magnetic, Shure 515, 588 switched to HiZ, … Bottle O Blues, Silverfish …)
• Nominal output level: 100 to 500 mV, medium or high impedance.
• MidNotch filter not usefull.
• Standard gain adjustment : between minimum and 10:00 am, depending on the mike.
Modern dynamic microphones
(Shure 55SH "skull", 565D, SM57, SM58, Audix Fireball V …)
• Nominal output level: 10 to 30mV, low impedance.
• MidNotch filter not usefull.
• Standard gain setting: around 12h00…
Output level
Output volume potentiometer
Standard setting : around 13.00.
With these standard settings, the output levels in bypass mode and effect mode will be balanced.
Nominal output level : -15dBm (150mV).

Tone controls
• Bandwidth and tone settings have been designed specifically for the harmonica.
• 3 controls : Bottom, Biting, Contour…
Bottom : the belly of the harp sound, at the junction of bass and low medium.
Biting : The global roundness or sharpness of the sound, according to the played styles.
Contour  : Carves symmetrically mediums and presence …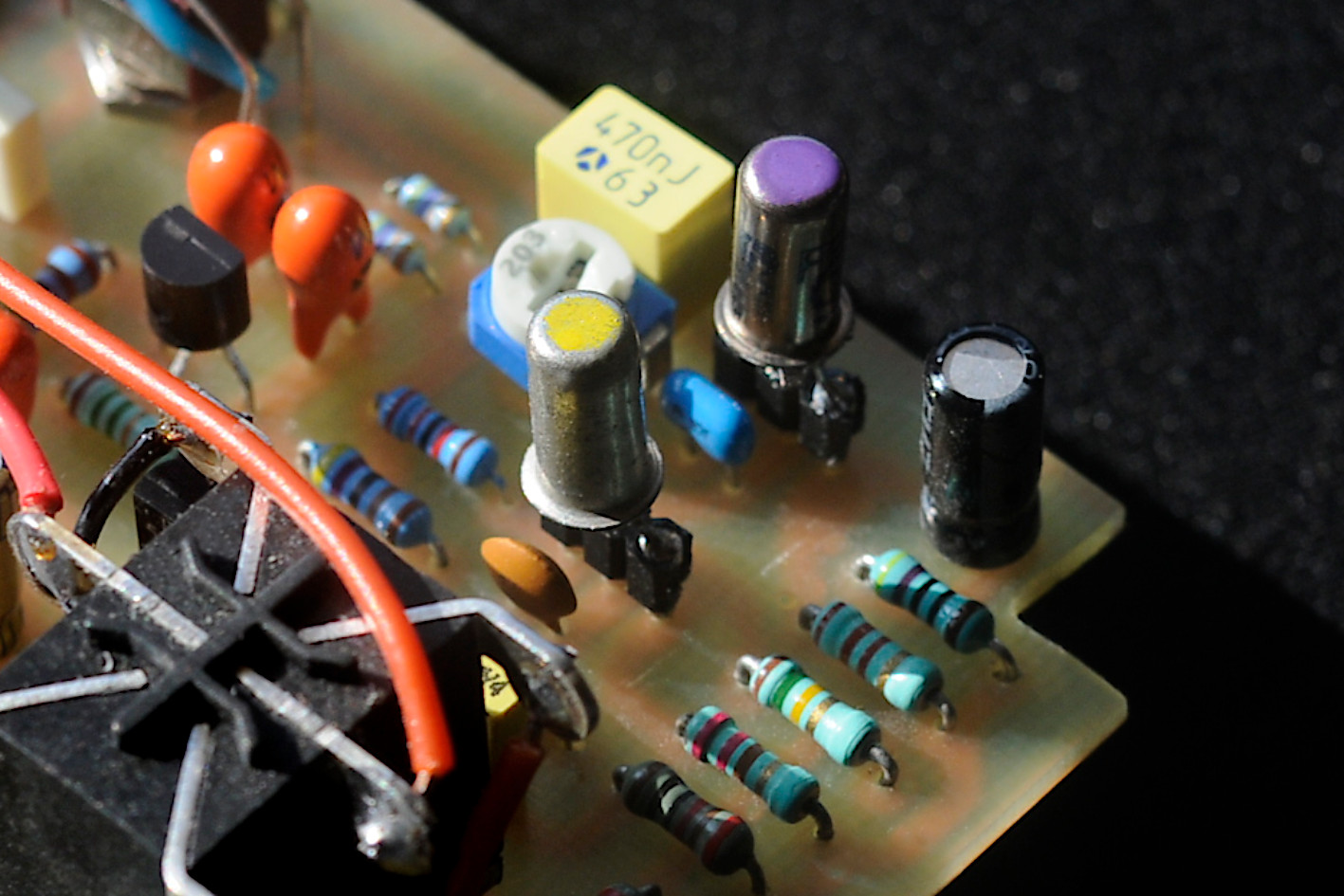 New Old Stock transistors of the output preamplifier, with their bias trimmer/em
Output/Overdrive stage
Technology
• The output preamp uses two NOS germanium transistors.
• Germanium rounds out the sound, and brings a dynamic rendering.
• The grain and the volume are modulated in real time by the instrumental playing.
Settings
• The standard settings shown above set the preamp at the clean/overdrive junction.
• You can sweep with the Gain knob from a totally clean sound to a fuzzy grain.
• Overdrive depends a lot on the tone controls that operate upstream:
Guitar Poppa applies the principle that made the sound of vintage amps: the last stages saturate before the firsts, depending on the tone settings.
The overdrive adds its grain to a sound material already sculpted by the bottom / bite / contour settings.
The sound texture is thus more complex and diversified, with a less uniform or washed-out coloring.

Auxiliary controls
Invert Phase switch : phase inversion in order to minimize the risks of Larsen and improve listening comfort on stage.
MidNotch switch (free option): This switchable filter, which can be ordered free of charge, attenuates the midrange around 1.5kHz, and softens the tone of old bullet microphones.

Power supply

CurvyMama is powered by a 9V battery or an external 7 to 12V supply.
• Sound is typical with 9V, more dynamic with 12V, dirty and compressed with 7V.
• An internal electronic filtering eliminates common supply noises:
Hiss of switching power supplies, hum from transformer power supplies.
• Typical consumption with 9V: 8mA.
Like all germanium circuits, Curvymama gives its best sound after 5 to 10 minutes under power, when its internal temperatures have stabilized.
---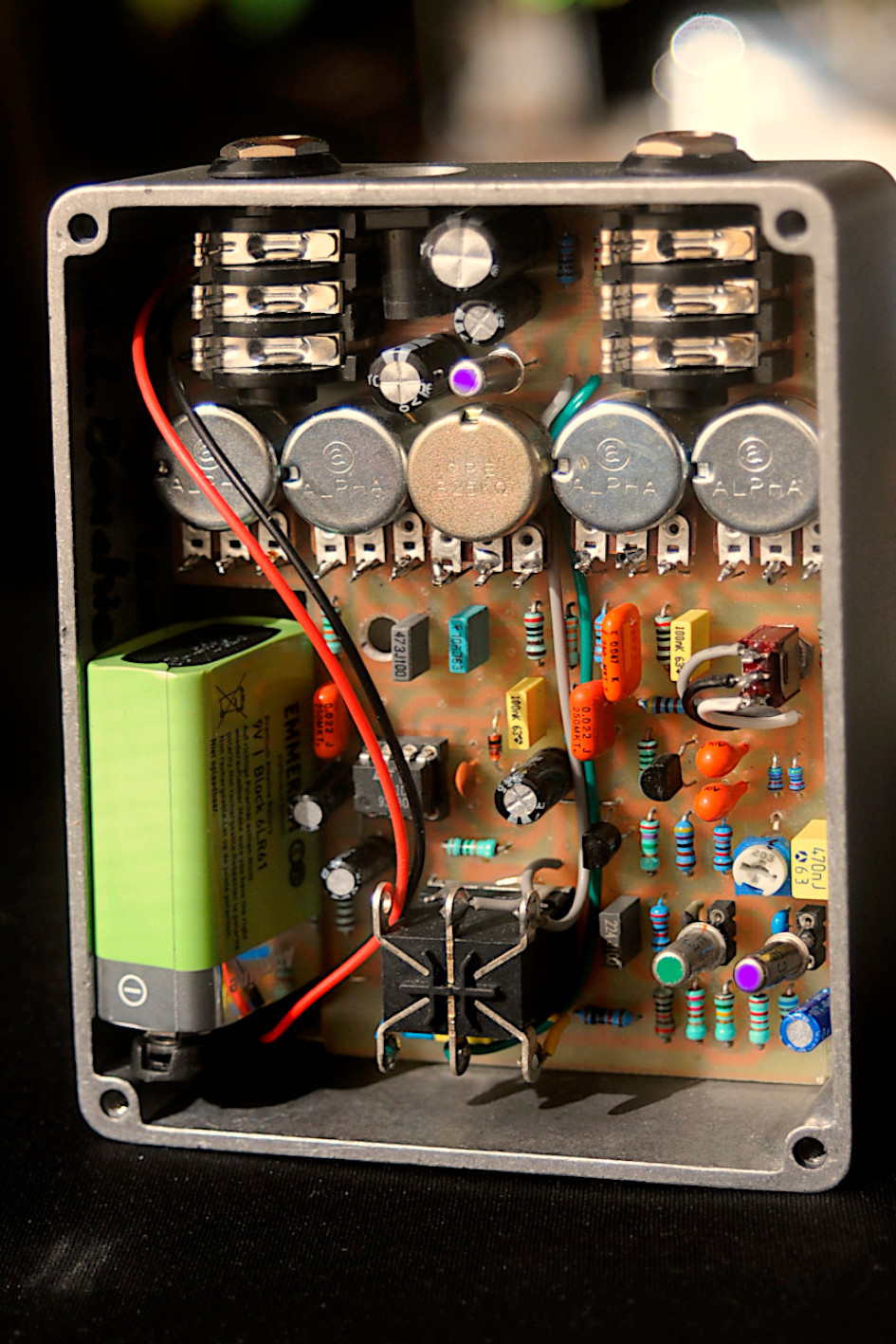 To know more…
Technical links
Technical sheet (downloadable pdf )
Audio links