The GeAmp1W MicroCombo is a real micro-amp
for harp or guitar, not a rebadged asian gadget.
Its neat electronics, the vintage speaker
and its solid walnut case give it a great musicality.
It will let you play for the pleasure or rehear at home,
with a sound that even neighbors will appreciate !
---

The MicroCombo 1W, in his new walnut housing.

---
Main features

• Walnut  housing providing a warm sound *.
• Dimensions : front 7.5×6 inch, depth 4 inch.
• Germanium 1W power amp, 60s technology soft clipping…
• 4 inch NOS, high efficiency speaker.
• Low noise silicon preamp, original Tone Control.
• Options : 3 voicings, adjustable phone outpout,
and line output for external amp or recording.
• Sold with a grounded 12V power supply.
---
---

Controls and connectivity

Control panel of the MicroCombo GeAmp1W, *** version .

*** Version , from left to right :
Input Jack, switching the battery.
Presets switch. Normal / Fat (gras) / Bright (clair).
Tone control. Neutral at 12:00 ; warm to the left ; fenderish to the right.
Volume control. Full clean level around 12:00.
Led power On indicator
Trimmer for phone level setting.
3.5mm phone jack.
3.5 or 6.35mm line output jack (50 to 250mV according to the volume control).
Coaxial power jack, 2.1mm diameter, center negative.
The basic version only includes input jack, tone, volume, led, and power DC jack.

Powering
MicroCombo GeAmp1W works with 7.5 to 12V, 0.3 to 0.8A.

Internal power supply : 6 AA batteries. Coupler at the rear of the enclosure.
• Autonomy : 2 to 5h according to the dissipated power.
• Power on through the input jack.
External power supply : 7.5 à 12V : 2.1mm coax sockett, center negative.
• A 12V 3A power supply unit is supplied with the MicroCombo.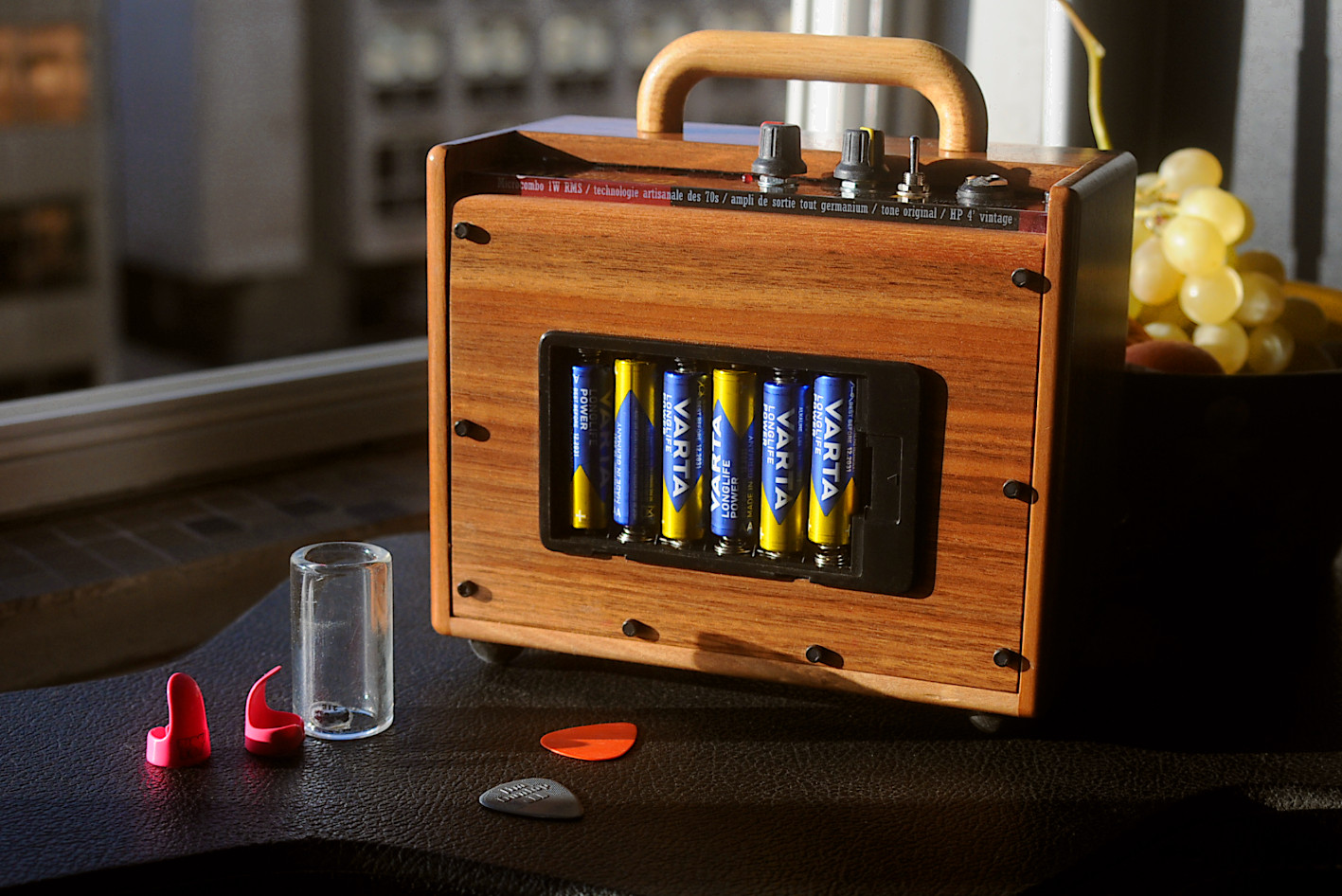 Back view, battery coupler open.


Reliable industrial power supply, modified by Guitar Poppa.
Standard connectivity, grounding eliminating noise.

---

To order GeAmp1W MicroCombo

1. Choose the version.
2. Specify the options.
3. Specify the shipping zone.
4. Click <Add to cart>.
5. Click 'Cart' on main menu.

MicroCombo

1W
basic version
199€
---
Perfect for roots harp and guitar, with a squeezed price !

• Electronics and basic Volume / Tone settings described above.
• 4″ speaker, alnico magnet. (Siare, a well known french brand from the 70s)
• Unique voicing, equivalent to the "normal" preset of version ***.
• No external HP outputs, nor Line output.
• Supplied with 6 AA batteries and a 12V-3A power supply with earthing.
• Select the input sensitivity by clicking below on the desired option.
(detailed informations at the bottom of this page …)
---
MicroCombo GeAmp1W, version basic

MicroCombo 1

W
*** version
229€
---
Electronics and powering same as basic version, with useful additional functions

• 3 voicings : Normal / Fat / Sharp
• Phone output 3.5mm jack, with speaker disconnection and volume adjust.
• Line output 3.5 or 6.35mm jack, transmitting the sound texture of the final amp
Options to click when ordering  (see details at the bottom of the page) :
• Choice of microphone type and input level.
• Choice of the NOS speaker (to well kown french brands from the 70s).
• Choice of diameter and location of the line output.
---
MicroCombo GeAmp1W, version basic
---

For those who wants more details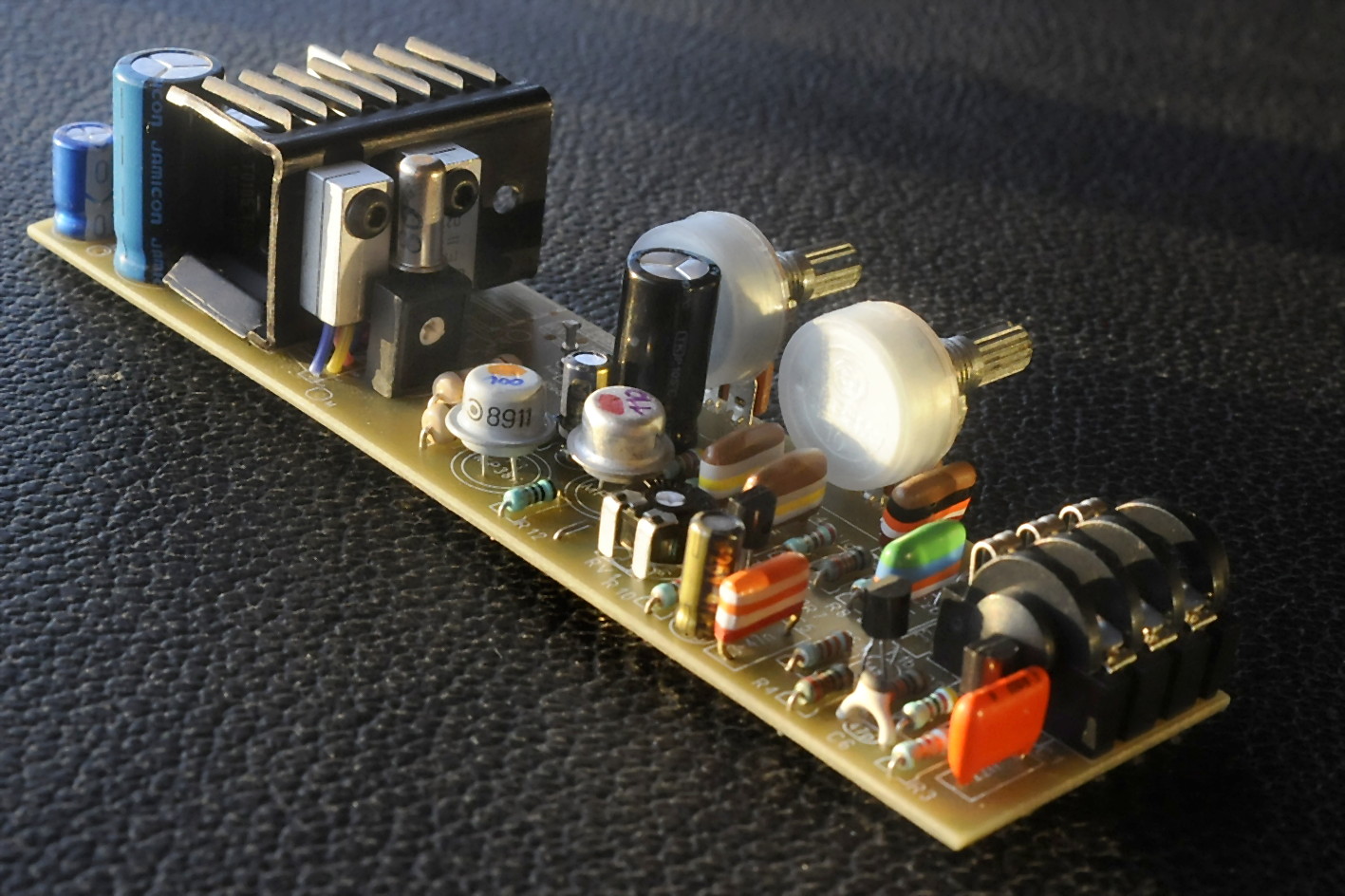 The electronic card.
In the foreground : the preamp and its selected components.
Back : the all germanium power amplifier.

Input level option (in each version)
In order to better adapt the preamp to your favorite audio source, don't forget to click on the desired option …
Guitar input (50mV, high impedance)
Configuration that fits almost anything. However, ceramic bullet microphones (like the Green Bullet) or some high impedance dynamics may cause a to heavy distorsion
Old bullet mikes for harp, Green Bullet genre (200mV or more, high impedance)
These piezo pickups can be aggressive according to their strong output level and mids. With this option, they will be well put up and their bandwidth a little rebalanced.
High impedance dynamic microphone (100mV or more, high impedance)
They can be old microphones: Shure Control magnetic, Shure 515, 588 …
They can be "new old school" microphones: Bottle O Blues, Silverfish…
Low level dynamic microphone, like SM57 (30mV)
Sensitive option. It can accommodate  low level microphones and give crunch.
Guitars with single pickups can also be more easily amplified.

NOS speakers  (both versions)
Two 4 inch models by two major French manufacturers of the 60-70s …
They feature generous magnets and elaborate membranes : these  little speakers give a strong but not harsh sound.
---
Siare speakers with alnico magnet (a well known french brand in the 60-80s)
Originally installed in basic version, and available as an option in *** version .


• Perfect for harp and guitar played in roots style…
• The alnico magnet guarantees well pitched but sweet treble.
• It brings a typical compression when level is pushed …
• The spheric shape of the membrane brings a naturally dense tone.
---
Vega speaker, custom model for the french national radio (1961).
Available as an option in *** version.



• More jumpy than the Siare model. It is perfect to push the instrument forward.
• High efficiency and fast attacks due to a large ferrite magnet.
• Ribs on the membrane avoid deformations, which maintains clarity at any levels.
• Granulations avoid a nasal over-coloring, known as "cardboard sound" …

3 voicings (*** option)
A switch lets select 3 typical voicings…
"Normal" (center)
• Neutral effect when the tone potentiometer is set at 12:00.
• To the left : Dimed treble, warmed tonality in the medium range.
• To the right : Brighter treble and notched low mids like in Fender amps.
"Fat"
• Low frequencies are boosted between 80 and 200Hz.
• This corrects the low volume of the enclosure, fattens the tone, and can bring a lo-fi dirt.
• Good to make the harmonica chubby and give some thigh to thin guitars.
"Sharp".
• High medium and treble are boosted above 2kHz.
• The effect is that of a vintage treble booster, with sharp attacks in the English style.
• Keeps a clear sound when MicroCombo 1W *** is plugged into a 10 or 12 inch cabinet.