Lil'HarpZone was initially motivated by a custom order…
It is now available to everyone !
Lil'HarpZone is a low sized transposition to harp of the famous Metal Zone distortion pedal.
It takes back most of its saturating circuit and features a specially designed One Knob Tone control.

Lil'HarpZone, and its simple controls.
---
General features

• Universal input, dedicated to all kinds of mikes.
• Saturating circuit ans its pre-filter close to the MetalZone®.
• Diode + LED circuitry improving the dynamics of saturation.
• 2 voicings "Sharp" and "Warm"…
• One knob tone knob, with simultaneous action
on the treble and the mids…
• Low impedance output.


---

To order…

1. Specify the shipping zone.
2. Click <add to order>.
3. Click <Shopping Cart> on the main menu to finalize.

---

Lil'HarpZone


139 €
Single version,
as described on this page.

---
---
CurvyMama
---
Shipping costs (Colissimo with signature)
France : 8€ — CE+Switzerland : 14€ — Other countries : 24€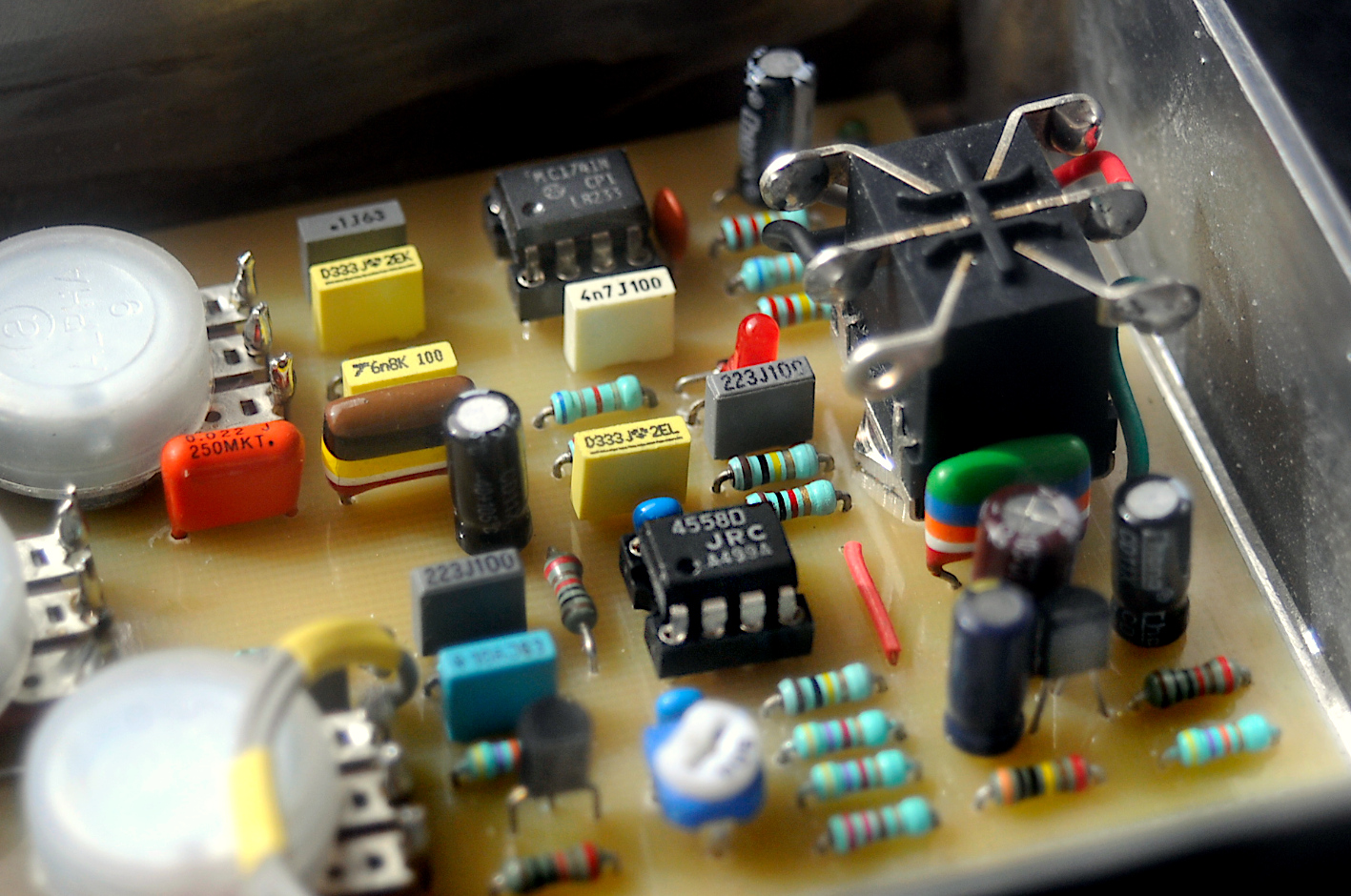 Interior and detail of the card, with the vintage integrated circuits providing amplification: JRC4558D and MC741N.
Technical details
Overdrive circuit
• The overdrive circuit is made up of an operational amplifier, classic in the world of overdrives / distortions of the 70s to 90s: the JRC4558D.
• It attacks a composite network consisting of a 1N914 silicon diode and an red LED.
this combination improves the level and dynamics of the distorted signal, as well as a more textured tone, without being harsh.
Standard gain settings according to microphone type
The settings below apply to a microphone without a potentiometer, or with a potentiometer set at its maximum.
The benchmarks are given for a moderate saturated rendering.

Bullet mike, piezo or ceramic technology
(antique: JT30, Green Bullet… neo-old: Superlux D112/C)
• High nominal output level, high impedance.
• Recommended gain setting: between minimum and 9:00, or more for a violent saturation.
Dynamic old or neo-vintage mike
(Shure Control Magnetic, Shure 515, 588 switched on HiZ,… Bottle O Blues, Silverfish…)
• Nominal output level close to a guitar, Mid or high impedance.
• Recommended gain setting: between 9.00 andt 10.00, or more for a distortion with balls.
Dynamic modern mike
(Shure 55SH "the skull", 565D, SM57, SM58, Audix Fireball V…)
• Nominal output level: 10 to 30mV, low impedance.
• Recommended gain setting: around 12:00 — or higher for more pronounced overdrive.

Tone control
This montage designed by GuitarPoppa is intended to be easy to use, but rich in effects.
• It is almost neutral when the button is set at 12:00.
• On both sides, it acts simultaneously and reversely on the mids and the treble :
To the left : attenuated treble, accentuated mids then low mids.
• To warm up a harp that is a bit too strident…
• To find "sweet spots" that sounds like old vintage amps…
• To increase the growl of a deep overdrive or a fuzz…
To the right : accentuated treble, medium hollow more or less accentuated.
• To find a sweet spot between warmth and brilliance, in clear or saturated sound…
• To lighten the lower midrange with some somewhat throaty harps…
• To deliberately freeze the sound like in italian westerns.
These filterings are very sensitive to the grain of input signal :
The best instrument/fuzz grain/tone combinations often depend on light differencies of Gain and Tone adjustment.
Be curious !

Power supply

Lil'HarpZone is powered a 9V battery or an external 7 to 12V power supply.
• Typical current with 9V : 8mA.
• Internal electronic filtering eliminates common power supply noise.
• The sound is typical at 9V, it is a little more dynamic at 12V.
Conversely, it compresses and can become filthy when below 9V.

To know more

Liens techniques
Product shit

Go see the large format pedal HarpZone
Go see the CurvyMama pedal, also designed for harp
Sonic links