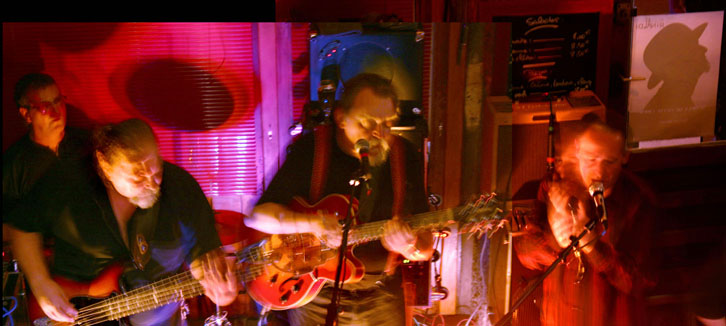 ---
---
Jack Mono Blues is my band…
We play postwar blues standards that took balls !
It was a magical moment, towards 1945-65, when the migrants musicians from the Delta made the urban energy of Chicago definitively their own thing : they invented a rough way of feeling that was still rural, but already colored by the lights of big city. Later, as teenagers, we found out in that music gorgeous echoes of our own metamorphosis, and never recovered…
After a long informal period between Rock, English bands and Chicago Blues, the Jack Mono Blues band was formed in 1985, with a special desire : give the public a good time, playing a swinging music and expressing the crudity or the wisdom of the lyrics…
The group's equipment has been my lab, and my motivation was to get both crude and true sound required by the blues. I let the visitors judge by themselves : the samples on this page were recorded in live conditions. The guitars and bass are amplified by home designed and made equipments.
---

Listen :
Sitting on the top of the world.
Live studio record at the Etoile Royale (Lyon, France), 2009.
Guild F160T, SweetGerm preamp, 40W solid state amp by Guitar Poppa. 
Further up on the road
Control record from the Jazz festival du Péristyle de l'Opéra de Lyon, 2014.
---
On the web…
Official Website
JackMonoBlues on YouTube